The Hi-Res Cloud Workflow
High resolution media is essential for any company to differentiate themselves in their industry. With the shift to working from home, it's crucial to give remote editors the tools to easily edit and manage media on whatever machine they work from. Unfortunately, the technical requirements necessary to handle higher resolution media are great. That's why eMAM and NICE DCV have joined to create a high-resolution cloud workflow, optimized for under-powered CPUs.
NICE DCV is a high-performance remote display protocol, providing customers with a secure way to deliver remote desktops and application streaming from any cloud or data center to any device, over varying network conditions. With NICE DCV and Amazon EC2, customers can run compute-intensive applications remotely on EC2 instances, and stream their user interface to simpler client machines, eliminating the need for local expensive dedicated workstations.

eMAM is a powerful media asset management platform that provides users an intuitive web interface to collaboratively produce, share, and deliver video, and other media. Artists and designers use integrated tools inside the Adobe Creative Cloud and Apple Final Cut systems. eMAM manages native resolution files and integrated workflow for leading organizations worldwide in local, cloud, and hybrid environments. eMAM helps organizations respond to emerging demands with scalability and easy reconfiguration.

Combined, the NICE DCV workspace and eMAM form an optimized workflow that can be entirely powered with cloud technology, facilitating high-resolution editing while keeping internal media assets organized and secure. Managing and transcoding high-resolution media on local workstations is taxing both technically and monetarily, so this workflow lightens this load.

Prepare and manage media in eMAM, perform proxy edits in Adobe Premiere and After Effects and finish the higher-end editing of original media in NICE's DCV in the cloud!
Workflow Steps:
1. Use eMAM's extension panel inside Adobe Creative Cloud application or web interface to connect to wherever your media is stored. Localize proxy media, create reviewable sequences for collaboration, and perform basic editing. If you are working from an NLE, export your project back to eMAM once edits are completed.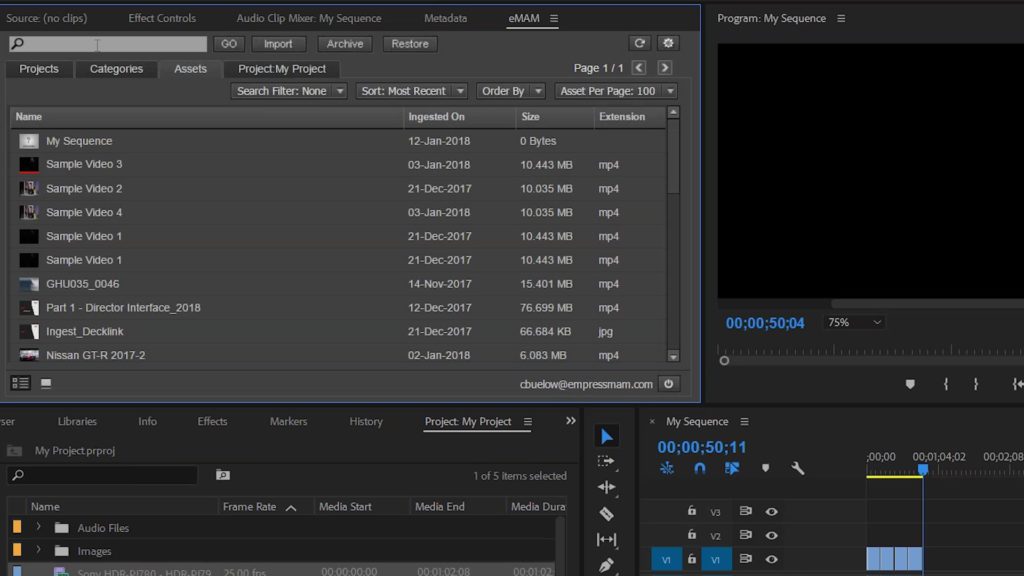 2. When you are ready to begin effects editing, open the NICE workspace and launch Adobe Premiere with eMAM's extension panel to connect to your media. NICE DCV can now manage the original versions of the media, offering high-res transcoding for video, audio and graphics.
3. Once effect edits are complete, import the project and localize the original media. Now users can render a new sequence version with the original media using NICE DCV.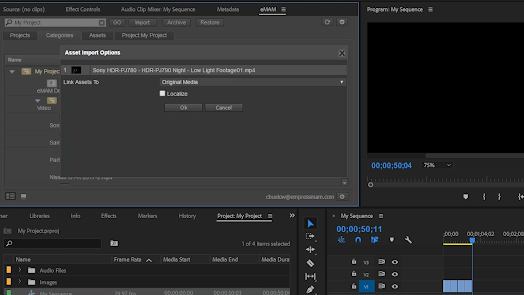 4. Deliver the new sequence file (with original media) from the cloud when ready, in any format or destination with eMAM's web interface.
Workflow Advantages:
Optimized Transcoding
Put the burden of rendering in the cloud to lessen the load on local CPUs. NICE's DCV can handle high-res media (2K and up) with ease.
Comprehensive Media Management
eMAM manages the media at every level, accelerating the editing pipeline.
Link-Edit Capabilities Available
Remove downloading from your workflow by linking media to cloud storage with AWS's FsX storage.
Acquire True Sound
NICE's workstation provides QC for even higher quality audio editing.
Inexpensive Storage Methods
Once you are done with your media, move it from AWS S3 to AWS Glacier instantly for cheaper storage costs.
eMAM manages, NICE DCV finishes. Cloud features are essential in remote workflows, and we hope you've seen how with this blog. Contact us to learn more about how this workflow works!

« eMAM's New Initiatives with AWS The Newsletter to keep you updated on eMAM! »