eMAM's New Initiatives with AWS
This past year has seen some true innovation in the delivery of customized media solutions. The pandemic-accelerated move to the cloud has obviously influenced this, but the need for powerful workflows to remedy media management issues has always existed. eMAM is a truly comprehensive media management solution, which we have been providing to leading organization worldwide for 16 years. The deployment of our system was designed to be easy, but is even easier with AWS's Cloud Formation Templates. With AWS Cloud Formation Template, eMAM can be deployed in minutes.

This year Amazon Web Services (AWS) changed the game again with their AWS Media Intelligence and AWS for Media & Entertainment initiatives, specifically launched to bring powerful solutions for all types of media workflows. Have a massive library of content? Add the power of artificial intelligence (AI) and machine learning (ML) to your media content workflow to better organize and use it in your projects. Unable to manage and archive that growing pile of media? Integrated media supply and archive applications to better manage your content. They provide great potential to meet the challenges of every modern organization.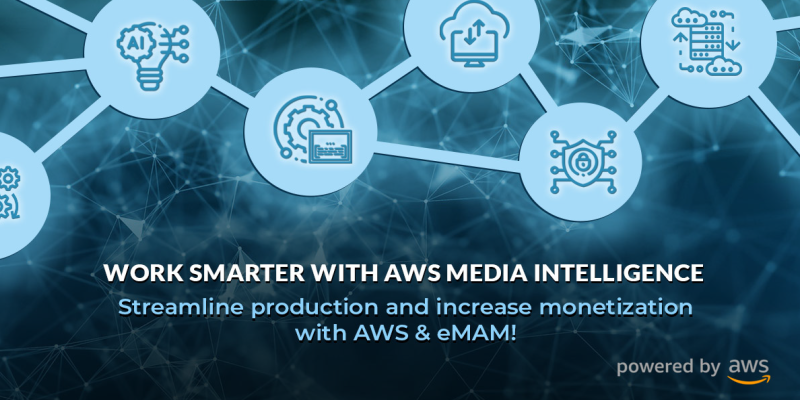 AWS MI solutions are a combination of services that empower you to easily integrate AI into your media content workflows. AWS MI allows you to analyze your media, improve content engagement rates, reduce production costs, and increase the lifetime value of media content. With AWS MI, you can choose turnkey solutions from participating AWS Partners or use AWS solutions to avoid starting from scratch. AWS's ML services gives insights on how to increase cost-efficiency and the lifetime value of media, providing:
Auto-Captioning & Transcripts – Generate transcripts in multiple languages and auto-generate captions for publishing faster and at a lower cost.
AI-Optimized Media Organization & Metadata – Tag videos and images with Amazon Rekognition to find objects, faces, etc. to find key points in video or the best images for use.
Storage Tiering & Processing – With eMAM, proxy copies and metadata are always available. Storage tiers can be optimized. eMAM can share proxy copies or deliver originals, with processing from AWS Elemental MediaConvert as needed.
Security – eMAM layers granular access and permission controls over AWS powerful security features.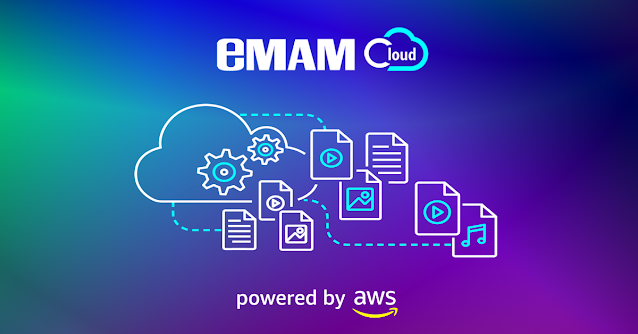 AWS for Media & Entertainment is an initiative featuring new and existing services and solutions from AWS and AWS Partners, built specifically for content creators, rights holders, producers, broadcasters, and distributors. AWS for Media & Entertainment also simplifies the process of building, deploying, and reinventing mission-critical industry workloads by aligning AWS and AWS Partner capabilities against five solution areas: Content Production; Media Supply Chain & Archive; Broadcast; Direct-to-Consumer & Streaming; and Data Science & Analytics. eMAM packages AWS services together resulting in a dynamic initiative:
Reliable Storage – Amazon Simple Storage Service (Amazon S3) & Amazon S3 Glacier provide durable and long-term storage classes starting at $1 per TB per month.
Media Intelligence Solutions – Amazon Rekognition brings innovative AI features mentioned previously for quicker media organization.
Elevate Current Supply Chain – Ingest, manage, and deliver with ease, thanks to AWS Elemental MediaConvert.
Both AWS initiatives can grant even more control over the media content production process. The features outlined can become–if they are not already–the norm for any leading organization hoping to stand out in the arms race for media content production and monetization.

« The Newsletter to keep you updated on eMAM! The Hi-Res Cloud Workflow »