How Tackle.io partnered with eMAM™ to launch eMAM Cloud


Hello! Thanks for checking out the brand new eMAM Cloud Blog on BlogSpot!



We'll keep you updated here of any eMAM Cloud related news.



To kick things off, we wanted to show you how eMAM Cloud was launched with the help of Tackle.io!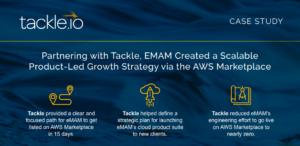 What is eMAM?

eMAM™ is a web-based media asset management (MAM) system that gives users powerful tools to find and use a lightweight proxy or native resolution media from any number of local or cloud storage and archive systems. With scores of best-in-breed integrations, eMAM has provided complete integrated workflows locally and in the cloud since 2006, meeting the needs of leading media, corporate, worship, education, and governmental organizations — no matter their size.





Challenge:


Becoming Disoriented in and Keeping Pace with a Growing Market to Marketplace
As companies were forced to quickly reimagine
their operational processes to become more
agile and globalized, extreme challenges
presented themselves. Issues like informational
silos, storage issues, poor governance, limited
oversight, and delivery issues for media assets
were causing slowdowns in delivery and production.
With these challenges came opportunities, and
so the EMAM team set out to address the
market adversity by helping media companies
become more efficient.
The eMAM solution gained traction, and companies of all shapes, sizes and industry verticals were seeking out eMAM. EMAM continued to build its systems with a rich toolset and scores of integrated technologies needed to meet the varied needs of organizations worldwide.

Despite the extensive eMAM configuration options, the requisition and deployment process for integrated hardware and software systems for small and medium- sized groups presented a new challenge.

Increasing acceptance for public cloud systems and recent improvements in cloud tools, especially
for challenging video editing processes, created a new opportunity: a cloud MAM with automatic
purchasing and deployment. EMAM embarked
on a product-led growth model, popular with
many leading software systems, of removing
all barriers to getting end-user customers to
start using a system. Customers could get an
immediate start using eMAM Cloud directly,
and cloud partners and the vast number of
cloud ISV/solution partners could now promote
or leverage eMAM's tools.
Solution:


A Focused and Efficient Path

to Marketplace

Adrift in the new realm of the AWS Marketplace, the EMAM team looked for a life raft: a team of experts providing an all-encompassing process improvement solution that guaranteed the tools for sustainable success. Lacking best practices, requirements, and experience, EMAM was starting from scratch. With the guidance of the team at AWS, EMAM found their life raft in Tackle. "The process of business development, product marketing, and technology integration that the EMAM team originally anticipated requiring a lot of engineering resources and months of preparation were completed in a matter of weeks at a fraction of the expected cost," said Brian Denker, co-founder and COO of Tackle.


Cloud Products that Allow for a Product Led Growth Strategy
eMAM Cloud was live on AWS Marketplace
within 15 days so that it could be presented at
a key trade show.
Today, eMAM Cloud is offered on AWS
Marketplace as the eMAM Cloud Platform,
a PaaS that allows the flexibility to use eMAM
directly on an organization's pre-established
cloud infrastructure or any AWS infrastructure
the organization wants to manage. It's also
offered as eMAM Cloud Service, a SaaS
offering that allows organizations to use a MAM
without staff overhead. EMAM and its cloud
partners will manage the infrastructure and bill
the customer accordingly.
With both offerings, the eMAM product has
become accessible to product innovation
teams worldwide at the click of a button.
As a result of opening up this new channel,
product-led growth has never been more robust.
Customers are providing feedback, and eMAM
is delivering value quickly and being procured
in a frictionless and focused way.
Check out the result of our partnership with Tackle.io on our AWS listing!


Plenty of more news on the way, thanks for reading!
– The eMAM Cloud Team