Remote Video Production Workflows using eMAM Cloud
In recent years, there has been a sudden surge in cloud adoption due to rapid developments in cloud computing and storage technologies. Businesses are now migrating their core business functions to the cloud. Advances in cloud technology, processing, networking, storage and security have allowed video post-production activities to move to the cloud. Today, remote video production capabilities have ramped up even further, mainly because cloud-based video production tools can be easily accessed anywhere, any time, on any device. With social distancing restrictions, working from home has become the new normal.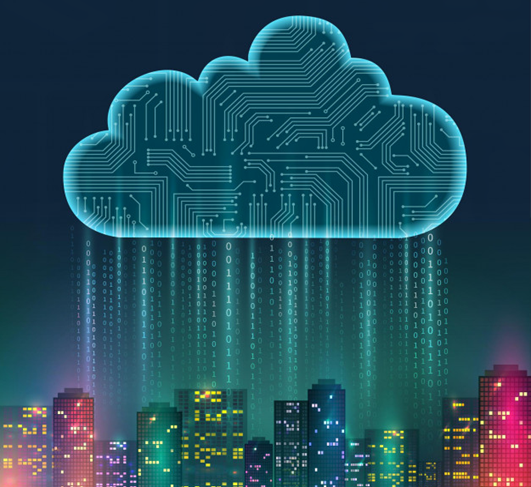 Moving your production needs to the cloud has many advantages including advanced security, increased processing speed, and expand-as-needed storage capabilities. Cloud-enabled video workflows are extremely cost-effective and show real performance with absolute flexibility.
eMAM Cloud Platform – Production (eCP-Production) is a PaaS/AMI/Server platform on Amazon Web Services (AWS) that allows worldwide collaboration with production workflows and quick and easy deployment using the AWS Marketplace. eCP-Production is an easily deployable CloudFormation Template (CFT) for connection with various AWS micro-services like Lambda, S3 and Glacier deep archive storage, Elemental Media Convert, Elastic Transcoding, IAM, SNS, Cloudwatch, and AI/ML (Rekognition and Transcribe). eCP offers streamlined workflows and worldwide accessibility using proxy preview, centralized cloud-based tiered storage, advanced processing power and rich media management tools.
Extend Your Editing Environment to the Cloud
Production has been traditionally accomplished using dedicated on-premise editing bays and workstations. eCP- Production opens up editing and design to worldwide collaboration. Professionals can use Adobe Creative Suite panels (within Premiere Pro, After Effects,Photoshop,Illustrator, and InDesign) to access projects, bins, sequences and all other elements in the eMAM media and project system. Once editing has completed, editors and artists can easily send the finished project back to the eMAM system for internal and external collaboration. Non-technical users can use the web interface to organize, search, browse, and preview all AI-tagged proxy media. eMAM Projects can be created to assign media, add markers and sub clips and build rough-cut timelines for review and importing into Adobe apps. With no geographic or technical boundaries, creatives can effectively collaborate with others to produce and deliver high-quality content from any remote location:

• Ingest: Using eMAM Cloud, upload your content immediately to S3. With permissions, team members can access any content managed by eMAM Cloud from anywhere.
• Transcode: eMAM Cloud uses Elemental MediaConvert transcoding to generate light weight proxies for preview in the eMAM Cloud Director web interface.
• AI tagging: Content ingested into eMAM are indexed and tagged automatically using Amazon Rekognition and Amazon Transcibe. These AWS services capture and add AI metadata tags, including facial recognition and speech-to-text, for simple and advanced media searches.
• Archive: Reduce storage costs by moving production media from Amazon FSx and S3 Standard tier to Glacier Deep Archive once production has completed. All of the media is still searchable and accessible, because eMAM maintains the metadata and browse proxy copies. You can search and preview media and restore when needed.
• Editing and design: Access all your content in eMAM using integrated extension panels for the Adobe Creative Suite (Premiere, After Effects, Photoshop, InDesign & Illustrator) to edit and produce finished content. Completed content can be exported to eMAM for additional processing.
• Sharing: From the web interface and extension panels, you can send secure review and approval links. You can also send branded email links, social media posts, and download media.
How eMAM Cloud Solutions on AWS Offers Advantages Over Traditional Workflows
eMAM Cloud Platform is a PaaS (platform as a service), which allows the flexibility of using eMAM directly on your pre-established cloud infrastructure. eCP- Production on AWS is a complete, cloud-based video production workflow solution that provides access to new innovations to ingest, index, manage, automate, share and edit video assets. eCP Production The CloudFormation template (CFT) uses AWS services including Lambda, S3, Glacier, Elemental Media Convert, Elastic Transcoding, IAM, SNS, Cloudwatch, Rekognition and Transcribe to offer complete and easy system deployment in under 8 minutes.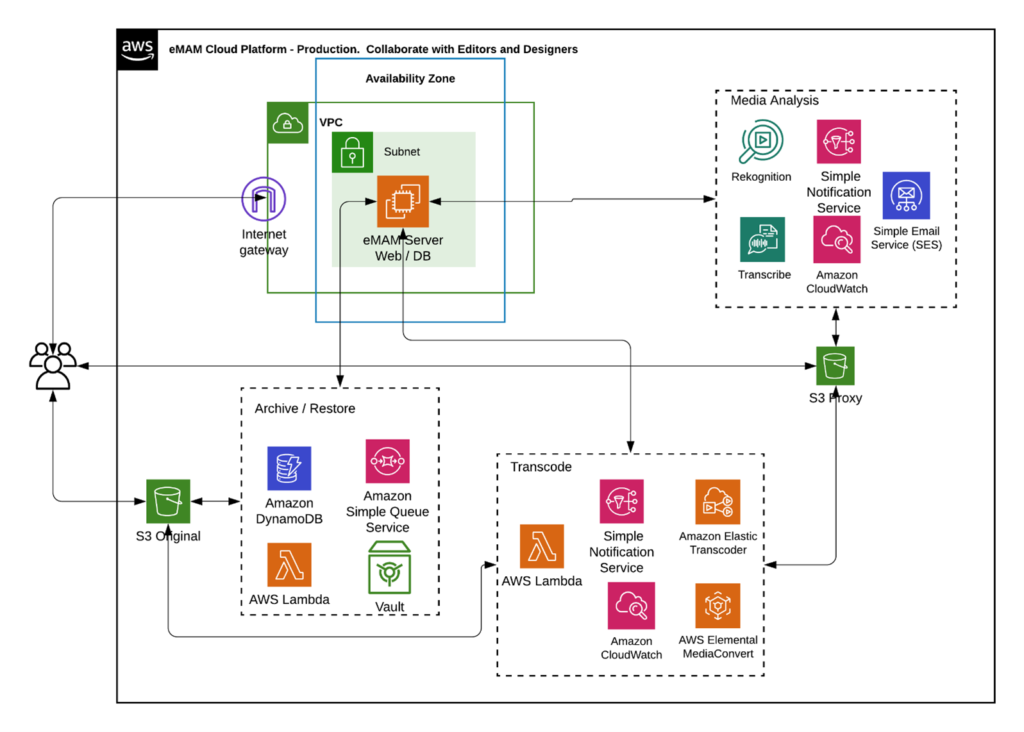 Collaborative Editing
Unlike traditional editing, eMAM Cloud offers an online collaboration platform that allows creatives and production teams to work together remotely. With its intuitive and user-friendly portal, editors and artists can use integrated Adobe Creative Cloud extension panels for Premiere, After Effects, Photoshop, Illustrator, and InDesign to access projects created from eMAM and the entire library of eMAM content. You can choose proxy or original versions for local editing or can edit full resolution from a cloud workstation using PCoIP. Recipients can add comments, markers, and sub clips and accept or reject the content. You can trigger predefined workflows, including notifications, delivery, and archive by updating a metadata field or using workflow trigger button. After final approvals, editors and artists can finish a project by re-conforming to the assigned media with original media using the extension panel.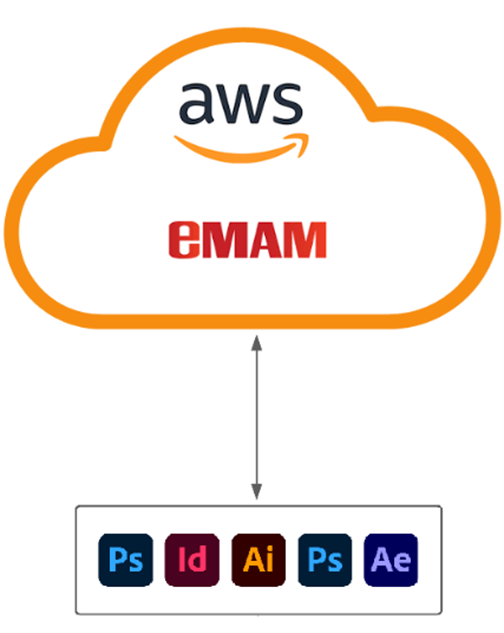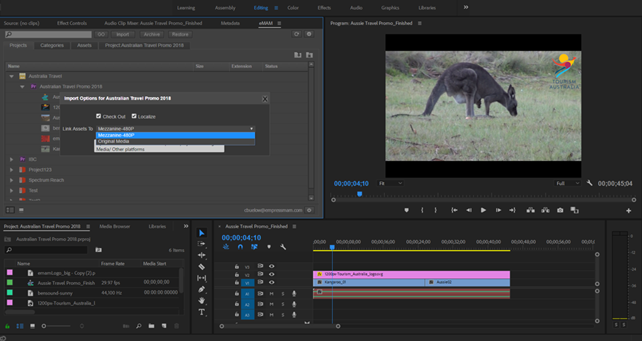 Searchable Archive
With media being repurposed regularly, finding the best content is critical. eMAM Cloud provides tools to easily search the entire content library. Metadata tags supplied by users or AI/ML services can be used to find media quickly. You can search (with basic search, advanced search, marker search, search filters, and thesaurus search) and preview media, organize clips into projects, add sub clips, markers, annotations, and create sequences.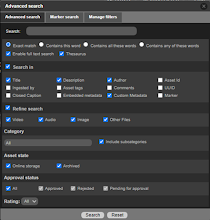 *Custom tagging on ingest for easy search
AI-Enhanced Analytics
eMAM Cloud's advanced integration with AWS artificial intellgience (AI) engines (Amazon Rekognition & Amazon Transcribe) for media and image analysis unleashes capabilities such as object recognition, face detection, speech-to-text (transcription), facial recognition, image analysis and keywords. AI tools use machine learning (ML) to provide enhanced and searchable metadata by tagging media efficiently and cost-effectively. Advanced configuration accelerates production workflows by automatically marking inappropriate content, SMPTE color bars, rolling credits, scenes, black frames and ad-insertion markers.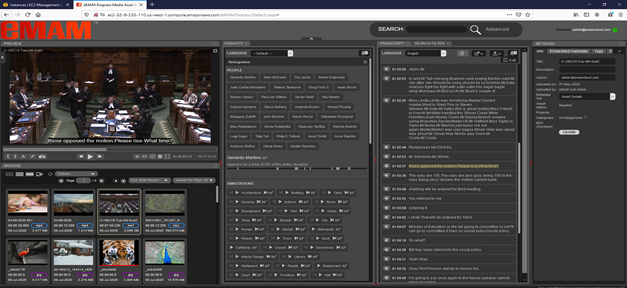 Share
You can upload the finished material into your cloud-deployed eMAM system to easily share the content. eMAM allows you to create secure sharable links with download and tracking options. You can send links to recipient email addresses or embed links can in websites. Content can be also be shared with social media and OTT platforms through existing API integrations.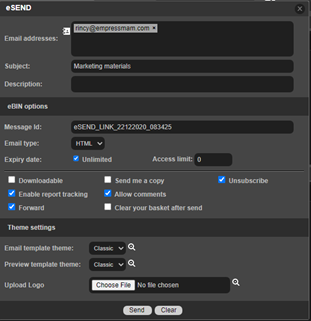 Enter any email addresses that should receive the link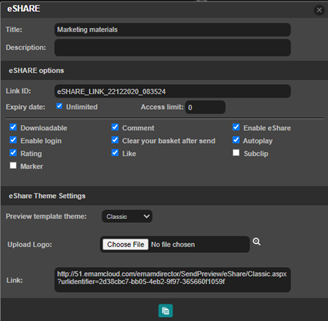 Or send the shareable link at your discretion
Scalable Storage Solutions
eMAM Cloud can use the Amazon FSx file system to optimize storage price and performance for your workload requirements. The FSx file system integrates with a broad range of AWS services to enable faster innovative processing. With a few clicks, you can launch a fully managed, highly reliable file system in eMAM Cloud. To control the storage cost, retention policies in eMAM can automatically move content from FSx to S3 Glacier or Deep Glacier once a production is completed.
Running out of Storage Space? Connect to Amazon FSx!
As your digital video workflows grow in scope, your underlying storage strategy also must adapt to support increasingly evolving asset reuse, globally distributed workflows and on-demand delivery requirements.

*Amazon FSx
On-premise storage can-and most likely will-increase infrastructure costs due to the difficulty of estimating capacity needs and the overhead costs. Overcome these challenges by deploying eMAM Cloud's seamlessly integration with Amazon FSx, a fully managed file system that provides a high-performance storage solution to meet ever-changing demands. Amazon FSx for Windows File Server delivers highly reliable and scalable file storage that is accessible over the industry-standard Server Message Block (SMB) protocol. Amazon FSx automates the time-consuming administration tasks such as hardware provisioning, software configuration, patching, and backups, so managing file servers and storage is automatic.
Benefits of Amazon FSx:
• Built on Windows Server: Amazon FSx provides a rich set of administrative features that include end-user file restore, user quotas, Microsoft Active Directory (AD) integration and Access Control Lists (ACLs).
• Lowest-cost SMB file storage in the cloud with Amazon FSx: You get highly available and durable file storage for pennies on the dollar. Data deduplication enables you to optimize costs even further by removing redundant data. Architect your storage needs in the most cost-optimized way.
• Fast and flexible performance: With Amazon FSx, you get the throughput, IOPS per file system, and consistent sub-millisecond latencies that your Windows workloads need.
• Amazon FSx automatically encrypts your data at-rest and in-transit: Amazon FSx is designed to meet the highest security standards and it has been assessed to comply with ISO, PCI-DSS, SOC certifications, and is HIPAA eligible.
• Broadly accessible: By supporting the SMB protocol, Amazon FSx can connect your file system to Amazon Elastic Compute Cloud (Amazon EC2), Amazon Elastic Container Service (Amazon ECS), VMware Cloud on AWS, Amazon WorkSpaces, and Amazon AppStream 2.0 instances.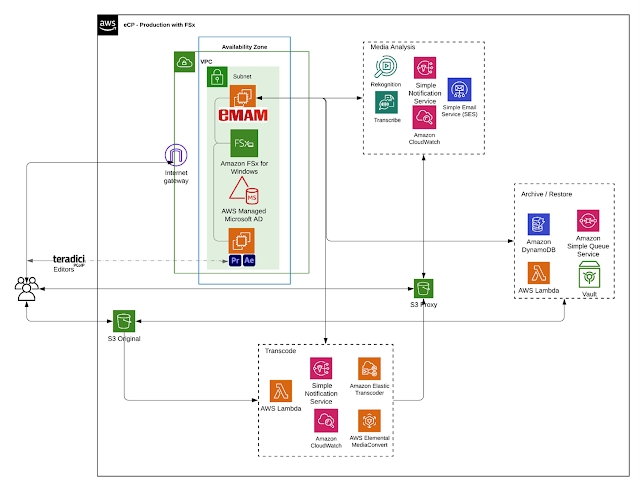 *Additional configuration required to set up ingest profiles, Active Directory, and FSx volume with the eCP-Production system.
eMAM Cloud for Hybrid Workflows
*App Nodes: eMAM Cloud can be easily deployed for hybrid workflows. eMAM App nodes connect on-premise storage and archive systems for local media management. You can search and find all content using the eMAM Director web interface. The App node manages transcoding and proxy creation and delivers content to any predefined location or platform as needed.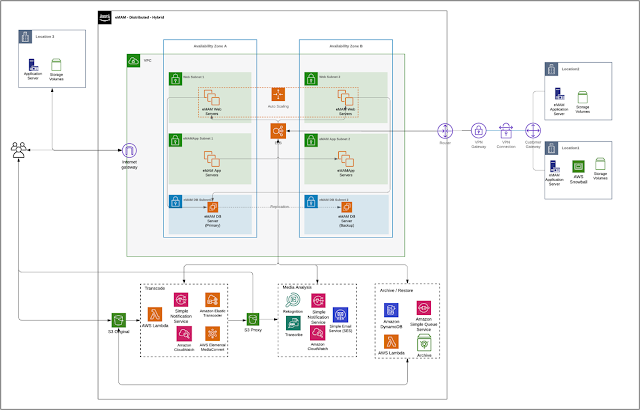 *App Node – eMAM app node software license and servers are required to attach the on-prem storage systems. Contact sales@emamcloud.com for more details.
Simplify video production workflows, eliminate wasted infrastructure costs, and scale compute environments more efficiently using cloud based technology. As cloud-based production workflows becoming the norm, content owners can easily create and share, make better decisions on content faster, and adjust to rapidly changing environments. Preconfigured eMAM Cloud deployments allow clients to easily adapt to cloud-based workflows. eMAM Cloud is committed to evolve as AWS continues to improve on the available best-in-class technologies and services. AWS and eMAM Cloud empower clients to unleash the full potential of media production and processing with cost-optimization and efficiencies.

« The Quarterly Newsletter to keep you updated on eMAM! The Newsletter to keep you updated on eMAM! »